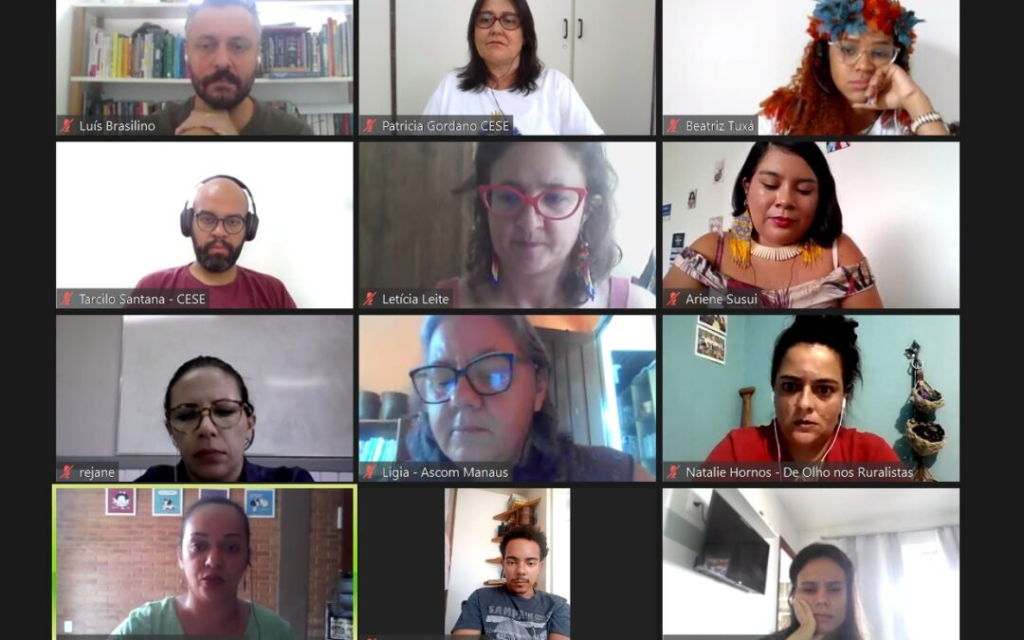 The challenges of media coverage in the territories of the Amazon, the possibilities of partnerships between non-hegemonic media outlets and some of the many grassroots communicator networks that are taking shape within the movements, the safety of interview sources and those involved in conflicts, and the democratization of grant funding for communicators. These were some of the main points discussed during the virtual dialogue "Strategic Communication: narratives and knowledge of the peoples of the Amazon", facilitated by CESE, with support from the Ford Foundation, held on 26 October.
The meeting was attended by grassroots communicators from Amazonian organizations and the journalists Flávia Quirino, from the Federal District region of the Brasil de Fator outlet; Nicoly Ambrosio from Amazônia Real; Natalie Hornos from the De Olho nos Ruralistas observatory; and the journalist Luis Brasilino from Le Monde Diplomatique Brasil. The idea was for these groups to talk amongst themselves, upending, to some extent, the normal logic of journalism: this time, the community representatives were responsible for asking the questions while the journalists provided the answers. The aim was to forge agreements and foster dialogue to benefit both audiences.
One of the main highlights was recognition of the advance of a significant movement of young communicators' networks in several Amazon states – including the Network of Young Communicators at the Coordination of Indigenous Organizations of the Brazilian Amazon (Coordenação das Organizações Indígenas da Amazônia Brasileira: COIAB). Above all, the possibility of partnerships between these young people and independent media outlets was encouraged, towards a more co-operative approach.